Boat Built in: 2002/4
Lenght x Width: 24,10 x 6,50 m.
Displacement: — Kg.
Draft: — m.
Engines: 2 x 850 Hp MAN
Engines hours: 4.000 ca
Propulsion System: propellers and axes
Fuel Tank cap.: 12.000 l.
Passengers on board:. 16
Water Tank cap: 3.000 l.
Speed max/cruise: 14/10 Kn
Fuel Consumption: 75 l/h at 8 Kn
Berths: 8(4 double berths) + crew cabin
Toilette: 4
Price: 2.450.000 Euro
Leasing: no
Boats exchange: to be evaluated with the owner
Sales commissions: Zen Yachts Broker will be paid a commission by each of the parties (seller and buyer) if the deal is concluded as a result of his intervention (art.1755 of the Italian civil code)
A pleasure craft, Rossinavi shipyard, with a steel hull and aluminum alloy superstructure, kept in excellent sailing conditions and with detailed documentation of all the interventions carried out over the years. Engine room in stratospheric conditions. In economic cruising the boat consumes 75 l/h at 8 knots. Single-owner.
Please call Mr. Maurizio Nesti mob. +39.328.703.80.72 or mail him: info@zenyachts.it
Disposizione interni/esterno
Cabins with relative (4) private toilets, the two guest cabins with single beds have a third Pullman bed. Call us to find out the spaces, we can describe the boat in detail and send you material to better understand the spaces of the shuttle
Strumentazione elettronica:
Radar, Gps, Eco, Vhf, Bussola, Autopilot; New electronic devices from 2019
Washer dryer, hot/cold air conditioning, DVD, retractable LCD TV, bow thruster, roll stabilizers, watermaker 4,500 litres/day, 2 generators of 35 and 20 kw
Nessun video per questa imbarcazione VUOI RICHIEDERE MAGGIORI INFORMAZIONI ?
Scrivici compilando il modulo di contatto. Saremo lieti di rispondere a qualsiasi domanda. WOULD YOU LIKE TO REQUEST MORE INFORMATION?
Write to us by filling the contact form. We will be happy to answer any questions you may have.
Ti potrebbe interessare anche:
You might also be interested in:
Zen Yachts Broker Srls
Marina di Cala Galera Box 4 – Porto Ercole (Gr) – Mob. +39.328.703.80.72 – info@zenyachts.it – www.zenyachts.it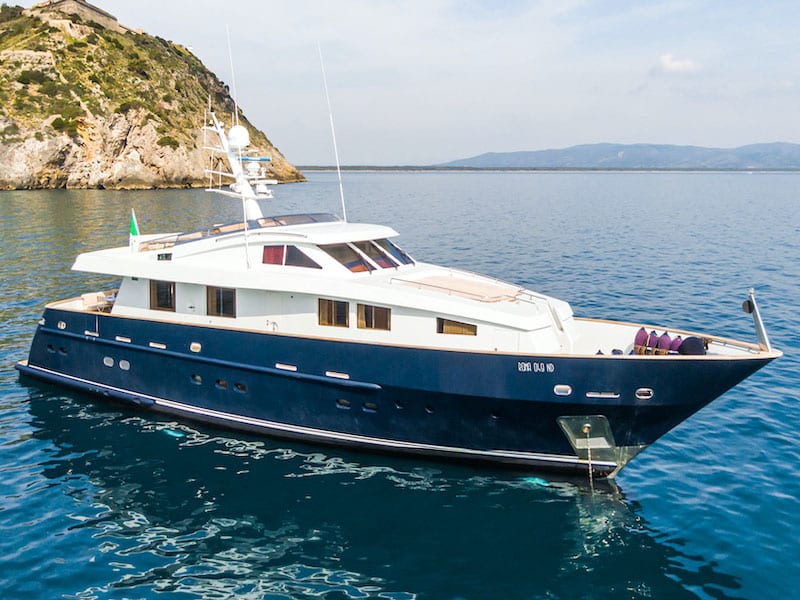 Boat Built in: 2002/4
Lenght x Width: 24,10 x 6,50 m.
Displacement: — Kg.
Draft: — m.
Engines: 2 x 850 Hp MAN
Engines hours: 4.000 ca
Propulsion System: propellers and axes
Fuel Tank cap.: 12.000 l.
Passengers on board:. 16
Water Tank cap: 3.000 l.
Speed max/cruise: 14/10 Kn
Fuel Consumption: 75 l/h at 8 Kn
Berths: 8(4 double berths) + crew cabin
Toilette: 4
Price: 2.450.000 Euro
Leasing: no
Boats exchange: to be evaluated with the owner
Sales commissions: Zen Yachts Broker will be paid a commission by each of the parties (seller and buyer) if the deal is concluded as a result of his intervention (art.1755 of the Italian civil code)
Rossinavi pleasure yacht, steel hull and aluminum alloy superstructure, kept in excellent sailing conditions, 4 cabins, 4 toilets, negligible fuel consumption, excellent condition.
Please call Mr. Maurizio Nesti mob. +39.328.703.80.72 or mail him:
info@zenyachts.it
Disposizione interni/esterno
Cabins with relative (4) private toilets, the two guest cabins with single beds have a third Pullman bed. Call us to find out the spaces, we can describe the boat in detail and send you material to better understand the spaces of the shuttle
Strumentazione elettronica:
Radar, Gps, Eco, Vhf, Bussola, Autopilot; New electronic devices from 2019
Washer dryer, hot/cold air conditioning, DVD, retractable LCD TV, bow thruster, roll stabilizers, watermaker 4,500 litres/day, 2 generators of 35 and 20 kw